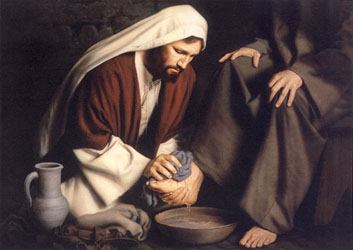 The Most High Calling In Christ.....deno....share freely.
......The greatest and the most high calling, and the love of God, makes servants out of the most successful, and it makes feet washers out of the most productive.
......Jesus who is the wealthiest of all and the maker of the heavens and the earth even said, "I have come into this world not to be served, BUT TO SERVE, to live for the good of others, and to lay down my life as a ransom of many."
......The Master (Even the Creator) humbled himself before his followers and washed their feet....He said to them, When you get to heaven I will also gird myself and SERVE YOU.
......Friends this attitude and this kind of mind and heart does not come from the spirit of this present me me me, its all about me evil world. It comes from heaven, from Gods own unselfish love thru Jesus Christ the Son of His Love. I would to God we all would again adopt this attitude and lifestyle of Christ serving heart thru the baptism of the love of God in Christ. This baptism makes servants of all. It even makes a SERVANT out of the Lord from heaven.
The Faithful Servants..Luke 12;35-38.
35 "Let your waist be girded and your lamps burning; 36 and you yourselves be like men who wait for their master, WATCHING AND WAITING FOR HIS return from the wedding, that when he comes and knocks they may open to him immediately. 37 Blessed are those SERVANTS whom the master, when he comes, will find watching. Assuredly, I say to you that he will gird himself and have them sit down to eat, and will come and SERVE THEM. 38 And if he should come in the second watch, or come in the third watch, and find them so, blessed are those servants.